Audio Production Case Study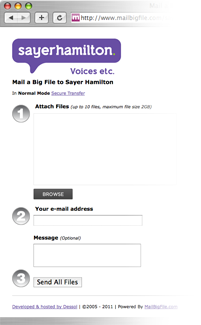 Sayer Hamilton
Audio production and voiceover services
Two of the UK's leading voice-over artists, Phil Sayer and Elinor Hamilton.
From their high-specification recording studio, they produce spoken-word material for radio and television commercials, training programmes and narration for corporate and broadcast applications.
Their clients include Microsoft, British Airways, Rolls Royce and the BBC. Sayer Hamilton retain their corporate indentity thanks to the branding feature.
The MailBigFile Business Account allows Sayer Hamilton to exchange large uncompressed audio files with broadcasters and producers all over the world.
Phil Sayer:
We've been truly delighted with the MailBigFile Business Account - it has been 100% reliable, and allows fast uploads and downloads for us and for our clients. Customer service is fast and helpful, and the whole process is hassle-free. We provide a professional service, and we expect the same from our suppliers - and that's exactly what we get from MailBigFile.