Print Industry Case Study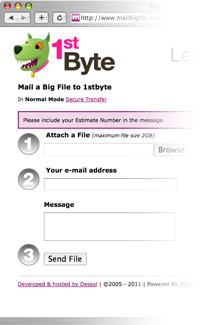 1stByte Digital Printers
Europe's leading digital printers.
In the world of print, digital means flexible. 1stByte have invested in the world's finest digital presses. It seems a natural progression to also invest in the leading file delivery system.
1stByte originally took the 30 day trial. During this time, it became obvious that the MailBigFile Business Account meant greater flexibility for both them and their clients.
Many other printers are using FTP as the main method of transfer. FTP can be a hassle for the client to setup. With MailBigFile, there is no software to install or configure. There are just 3 easy steps.
The service enables their clients, be they designers or advertising agencies, to quickly and easily send files to 1stByte for printing.
Damian Greening, Pre-press & IT Manager:
With the increasing file sizes that are associated with press ready artwork we needed a viable alternative to traditional file transfer methods. Our MailBigFile file Business Account provides our customers with a fast, easy to use interface for supplying us large files for print. MailBigFile makes ISDN/FTP look very dated indeed.